Game of Thrones Pro Pinball Machine
$5,124.00
Condition
This Game of Thrones Pro pinball machine is in excellent condition following a complete teardown, clean and rebuild. Several cosmetic upgrades have also been made to the game including a brand new, transparent orange bottom arch, lit speakers, bronze powder coating and even new orange flipper rubbers.
Some machines we sell are fully restored, where we will fit new decals, new playfields, new parts such as ramps, and even upgrade certain items, such as the sound components. Where this type of reconditioning process has been undertaken we will make it absolutely clear that this is the case and the price will reflect the amount of time taken and costs incurred in this process.
Description
The Stern Game of Thrones Pro Pinball Machine comes with delivery and setup, and we have the lowest price for the Official version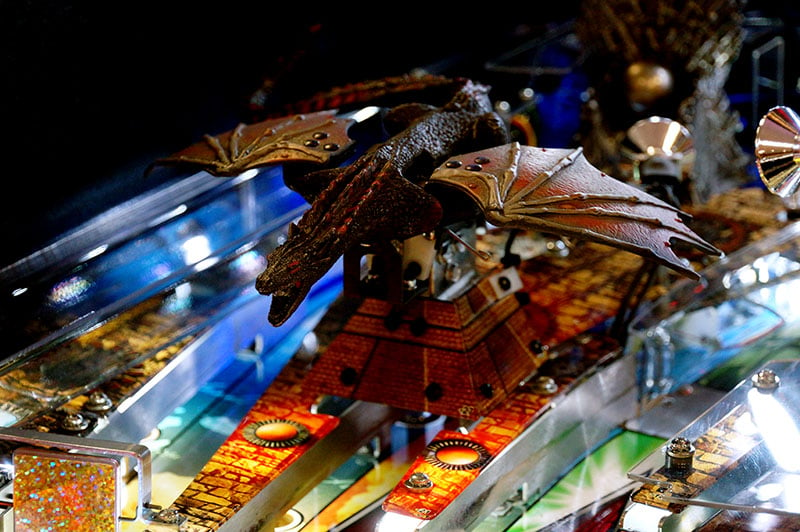 This fantastic addition to Stern's range of licensed pinball machines celebrates HBO's Game of Thrones, based on the books by George R.R. Martin and quickly becoming one of the most popular television shows of all time. Stern's Game of Thrones pinball features everything fans would want in a pinball version of Westeros, chronicling the power struggles among noble families fighting for control of the Iron Throne of the Seven Kingdoms.
Since its first broadcast in 2011, Game of Thrones has taken the fantasy genre by storm, depicting a world of magic, dragons, swords, and intrigue, winning dozens of awards and inspiring countless fans in the process. Players choose one of the iconic houses – Stark, Lannister, Greyjoy, Baratheon, Martell or Tyrell – to represent as a knight in a bid to rule Westeros.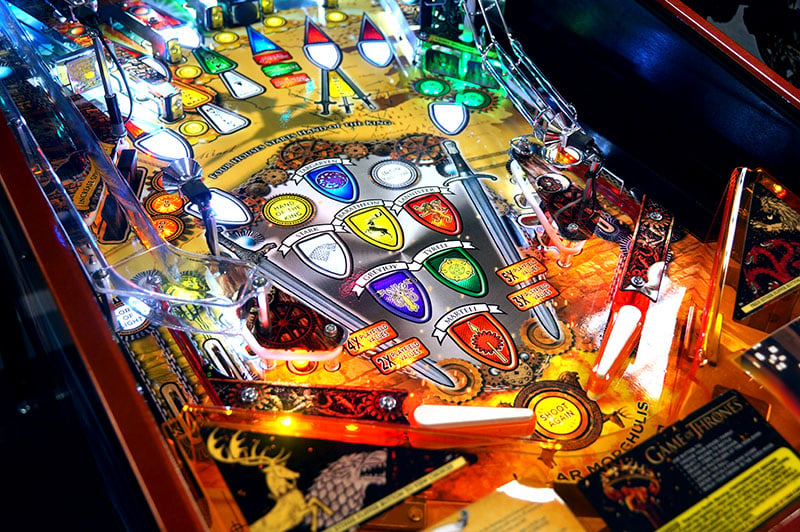 During play, players can win valuable random awards and features with Reel Pops, by playing the Pop Bumpers and spinning three virtual spinning reels on the display. When three identical symbols line up, the player is awarded the prize shown on the reels. Earn gold and spend it on needed weapons and features. An Action Button is featured on the front molding, for the largest array of interactive play features ever seen in a pinball machine.Game of Thrones Pro Pinball Machine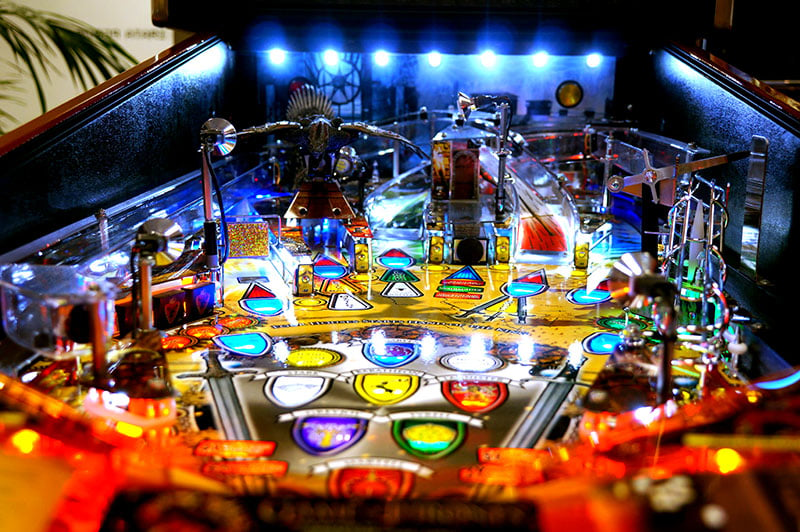 Game of Thrones Pinball comes in three different versions – the Pro model, the Premium Edition and the Limited Edition variant which is made in strictly limited numbers.
Stern Game of Thrones Pro Key Features:
Experience the greatest epic Game of Thrones battles in a World Under Glass
Custom speech and narration by GoT actor Rory McCann as Sandor Clegane, aka "The Hound"
Game of Thrones theme song and many more original songs
Players choose to be a Knight of the Stark, Lannister, Greyjoy, Baratheon, Martell, or Tyrell family houses Players choose other houses to battle and include stacking battle choices for twice the challenge
Players strive to rule the Seven Kingdoms of Westeros
Animated interactive Dragon toy
Exciting Sword Fight display mode
Battering Ram sliding Bash Target smashes Castle Gate for playfield multipliers, wildfire, super jackpots
Sword of Multiball Swinging Sword Device
Dragon Kickback fires the ball back at players in anger
Spinning Target with Sync-FlashTM Super Bright Flasher
2 Electric Gates
2 Superspeed Ramps
1 Up Post
1 x 1.5″ Custom Castle Gate Stand Up target
5 x 0.5″ Stand Up Targets
3 Bank Drop Targets
2 Bank of 1.5″ Stand Up targets
Left plastic ramp feeds to chrome right wire ramp, Sword of Multiball, and right flipper return lane
Right plastic ramp feeds left flipper return lane
2 New Drive Concept "No Buzz" Quiet Flippers
3 Pop Bumpers with LED lighting
7 Full Spectrum color-changing RGB LED's under playfield Shield inserts
All LED general illumination
Unique Art by Greg Freres and Steven Martin featuring "Iron Throne and King's Landing" Translite Backglass
Full Color High Definition decal material cabinet art featuring Key Characters, King's Landing, and Winterfell
Snap Latch Lockdown bar
Traditional playfield rod supports
Powder coated steel and plywood backbox with color themed t-molding
Black Wrinkle powder coated legs, armor, hinges, front molding
New SPIKE electronic system
High-efficiency switching power-supply for consistent performance in all line conditions
Stereo Hi-Fidelity sound system with 3 channel amplifier
Separate treble and bass adjustment
New CPU mounted line-out audio connector for external amplification
4 Balls
Traditional Coin Door
Easy-to-Follow game rules for casual players, with depth for experts
Modular computer style cord
Stern Game of Thrones Pro Measurements:
| | |
| --- | --- |
| Dimensions | |
| Height: | 75 1/2″ |
| Width: | 27″ |
| Length: | 55″ |
| Weight: | 250lbs |
Please ensure you fully check that the Game of Thrones Pro Pinball Machine size will fit into your intended location.
Warranty: