Monster Bash Pinball Machine
$6,578.00
This Monster Bash pinball machine is in excellent condition for its age given its rarity, making this machine a truly excellent addition for any collector. The playfield is completely unmarked and unfaded with every playfield mechanism functioning perfectly. The cabinet artwork is also in excellent condition and looks super clean.
Some machines we sell are fully restored, where we will fit new decals, new playfields, new parts such as ramps, and even upgrade certain items, such as the sound components. Where this type of reconditioning process has been undertaken we will make it absolutely clear that this is the case and the price will reflect the amount of time taken and costs incurred in this process.
Description
Monster Bash Pinball Machine comes with delivery and installation, and is in excellent original condition. Assemble six classic movie monsters and prepare for a rock concert for the ages. Monster Bash brings together Dracula, Frankenstein's Monster and more in an unlikely partnership to play a historic musical gig to a sellout crowd.
The Monster Bash Pinball Machine, released in 1998, and is one of the best pinball machines ever made, currently holding third place in Pinside's Pinball Top 100. It was manufactured by Williams, makers of some of the greatest pinball machines in history, who produced only 3,361 units, making any Monster Bash models highly sought after. Zumangames store
Monster Bash Pinball Machine Gameplay:
Get Ready to Rock at the Monster Bash!:
Six Movie Monsters to Rock Out With – Collect each monster to assemble the band, including Dracula, Frankenstein's Monster, Bride of Frankenstein, The Wolfman, The Mummy and Even the Creature from the Black Lagoon.
Animated Character Models – Each monster is brought to life with various animations, including the Mummy's opening sarcophagus, the Bride's moving head and The Creature's murky lagoon.
Moving Dracula Target – Dracula swings out to taunt the player and dodge your shots.
Animated Frankenstein's Table – Bring Frankenstein's Monster to life, and watch him rise and stand on the playfield.
Phantom Flip – Let the game take control to take shots with remarkable accuracy.
Top Rated Game – Monster Bash is consistently voted as being one of the world's best pinball machines, standing at number 3 in the world in Pinside's online rankings.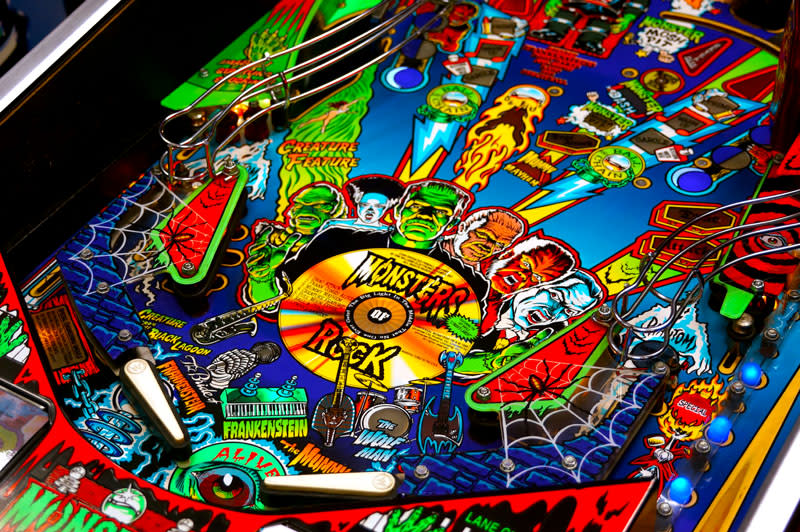 Monster Bash Pinball Measurements:
| | |
| --- | --- |
| Dimensions | |
| Height: | 76″ |
| Width: | 29″ |
| Length: | 55″ |
| Weight: | 300lbs |
Please ensure you fully check that a pinball of this size will fit into your intended location and that it will fit through your doorways and corridors to reach your intended destination.
Some doorways are too narrow to fit a standard backbox through, where this is an issue, we can supply an engineer to remove the backbox and re-fit it when the machine is in place in its intended location. We can quote for this service on an individual basis depending on the distance from San Francisco
Warranty:
Home Use:
This pinball machine comes with a 1 year parts warranty. All parts that are faulty will be replaced. Often we can solve any problems over the phone and supply any necessary components for the customer to fit. If necessary our specialist repairer can visit your home to inspect and repair your machine on-site, but this would be chargeable. Please call us for a call-out quotation. If parts are required which are not carried at the time these will need to be ordered for you, and will sometimes need to be imported from the States – therefore, there can be a wait for the part to arrive.Monster Bash. Pinball Machine for sale.
After our 1 year warranty has expired we will continue to offer you complete support for any problems you have, either over the phone or by email, and can provide a chargeable engineer call out should it be required. Whatever happens, we will be able to look after you and your pinball machine.
Pinball machines are complicated items, which don't like being moved about, nor do they like the cold or humidity. Therefore, if you chose to move the pinball machine from where we originally installed it, or it is stored in a cold or damp location, our warranty will become null and void. We won't be able to supply any parts for your machine free of charge if it has been accidentally damaged or you have tampered with it in any way.