Simpsons Party Pinball Machine
$5,128.00
Condition:
This pinball machine has remained in excellent condition and has been given numerous cosmetic upgrades to make it one of the greatest pinball machines we've sold. The game has received a full deep-clean, had all of its playfield mechanisms checked over and has been thoroughly playtested to ensure the game is functioning 100%. The game's backbox benefits from a more dynamic translite, whilst the cabinet has been given a golden trim to the metal parts. The playfield has also received a full LED and Sound upgrade.

Pinball Table Measurements:
Please ensure you fully check that a pinball of this size will fit into your intended location.
| | |
| --- | --- |
| Dimensions | |
| Height: | 71″ |
| Width: | 31″ |
| Depth: | 52″ |
| Weight: | 118kg |
Description
Simpsons Party Pinball Machine comes with Delivery and Installation, has been fully restored and is in great condition and is in full working order.
The Simpsons Party Pinball Machine is manufactured by Stern, makers of some of the world's greatest pinball machines.
This fantastic machine will make a great addition to any pinball arcade or collection. The Simpsons has entertained audiences for more than 25 years, and The Pinball Machine takes all the irreverent humour and comic action of the cartoon and brings it to an amazing pinball machine. For sale.
With brand-new dialogue recorded by stars Dan Castellaneta, Nancy Cartwright and Hank Azaria, cabinet and backglass art by Matt Groening's team, and design by Keith P Johnson and Joe Balcer, This Machine will delight fans of pinball and The Simpsons equally.
Features:
Upper Mini-Playfield
5 flippers
3 drop targets
Multiball (3 ball and 5 ball)
Captive ball
Bumper caps in the shape of nuclear cooling towers
Auto-plunger/manual-plunger arrangement
Homer's head moves on playfield, with lamp inside
Itchy & Scratchy figures
Comic Book Guy figure
Bart figure
Television — a 3-color digital LED dot matrix display
Living room "couch" (3 ball lock) on upper playfield
Additional character figurines around playfield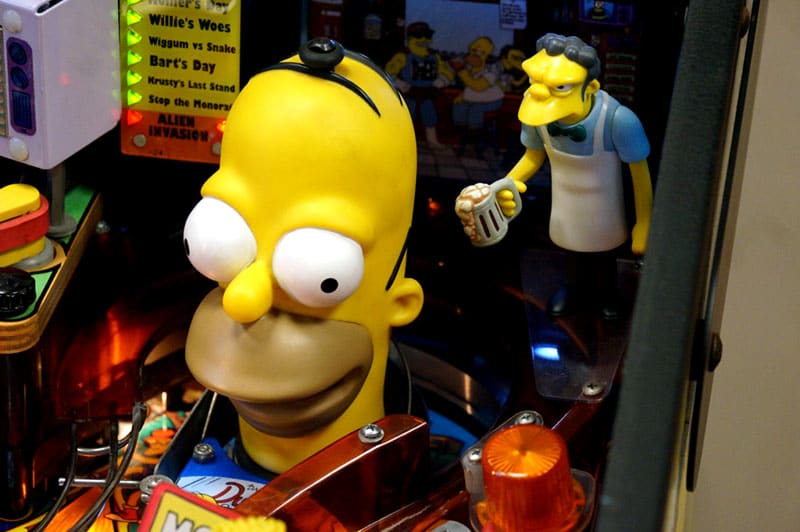 Condition:
This Machine is in full working order, and only has small cosmetic imperfections on its cabinet and playfield. The game has been given a full clean to ensure the playfield artwork looks its best. The game plays fantastically after a full mechanics check and play test.
The game has also had a number of additional Simpsons art blades and figurines put onto the playfield to help the world of Springfield come to life. The speaker and display panel also benefits from additional artwork.
This is a vintage machine and can therefore carry small cosmetic imperfections due to its age. This model has had custom cabinet armour fitted by a previous owner, adding the extra wow factor to the fantastic artwork and features of the Simpsons Pinball Party Pinball Machine.
Some machines we sell are fully restored, where we will fit new decals, new playfields, new parts such as ramps, and even upgrade certain items, such as the sound components. Where this type of reconditioning process has been undertaken we will make it absolutely clear that this is the case and the price will reflect the amount of time taken and costs incurred in this process. Simpsons Party Pinball machine For sale.
Reconditioning and Servicing – 26 Point Checklist:
Buying a pinball can be a lot like buying a car: there can be problems underneath the bonnet that you wouldn't even know about, until they interrupt your fun!
It's worth noting that pinball machines are complicated in their workings. There are pitfalls to buying a second hand pinball machine elsewhere, and if you don't know what to look for, you can have an incomplete machine running at less than its potential. Furthermore, you could purchase a machine that is 20-30 years old and has a serious electrical fault.
Warranty:
Home Use:

This Simpsons Party pinball machine comes with a 1 year parts warranty. All parts that are faulty will be replaced. Often we can solve any problems over the phone and supply any necessary components for the customer to fit. If necessary our specialist repairer can visit your home to inspect and repair your machine on-site, but this would be chargeable. Please call us for a call-out quotation. If parts are required which are not carried at the time these will need to be ordered for you, and will sometimes need to be imported from the States – therefore, there can be a wait for the part to arrive.
After our 1 year warranty has expired we will continue to offer you complete support for any problems you have, either over the phone or by email, and can provide a chargeable engineer call out should it be required. Whatever happens, we will be able to look after you and your pinball machine.
Pinball machines are complicated items, which don't like being moved about, nor do they like the cold or humidity. Therefore, if you chose to move the pinball machine from where we originally installed it, or it is stored in a cold or damp location, our warranty will become null and void. We won't be able to supply any parts for your machine free of charge if it has been accidentally damaged or you have tampered with it in any way.