Sale!
Stern Avengers Pro Pinball Machine
Save: 17%
Condition:
This pinball machine has remained in excellent condition and has been given numerous cosmetic upgrades to make it one of the greatest Avengers pinball machines we've sold. The game has received a full deep-clean, had all of its playfield mechanisms checked over and has been thoroughly playtested to ensure the game is functioning 100%. The game's backbox benefits from a more dynamic translite, whilst the cabinet has been given a golden trim to the metal parts. The playfield has also received a full LED upgrade.
Description
Stern Avengers Pro Pinball Machine comes with delivery and installation and we have the lowest price for the Official USA version.This addition to the Stern collection celebrates the Avengers, the ultimate team of Marvel superheroes, as popularised by the recent blockbuster movie. The Avengers join Stern's revolutionary line-up of comic inspired machines including Spiderman, Iron Man and Black Widow.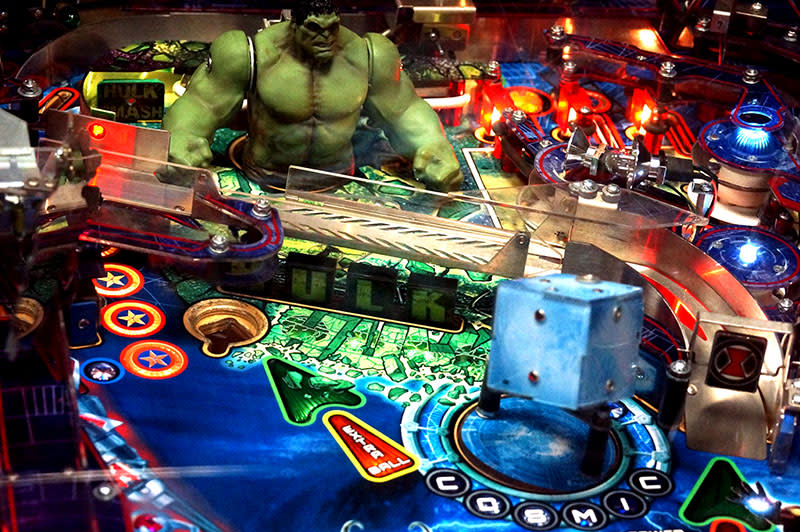 Since the first appearance of the Avengers as an assembled team in 1963, the characters in the Stan Lee series have resonated with millions of comic lovers. Now Avengers fans can experience the adventure first hand with a first of its kind pinball display. In this game, players can assemble the Avengers team to battle and defeat Loki.
Stern Avengers Pro Key Features:
Stern Pinball Custom-Molded, Fully Decorated Hulk

"Raging Hulk" Animated Target with Magnet and Ball Interaction

"Spinning Tesseract" Cube Target featuring C-O-S-M-I-C spellout awards

Stainless Steel Launch Ramp Featuring Back-lit Laser-Cut Avengers-Logo

"Black Widow" Ramp with Spinning Target and Diverter

"Hawkeye" Ramp

Drop Targets spellout H-U-L-K and Stand-up Targets spellout T-H-O-R

Standup Targets : 3 "Tesseract," "Hulk Smash" and 3 S.H.I.E.L.D. Agents

"Loki" Multiball Featuring Physical 3-ball Lock on Right Ramp

"Gamma Ray" Ball Eject

One Electronically-Controlled Gate to Control Orbit Shots

4 Balls

Traditional Red LED Dot Matrix Display

Incandescent lighting

Traditional Backbox

"Latch" Lockdown Bar

Black ABS Plastic Bottom Arch

Black Powdercoated Front Molding, Legs, Side Armor and Matching Hinges

Traditional Coin Door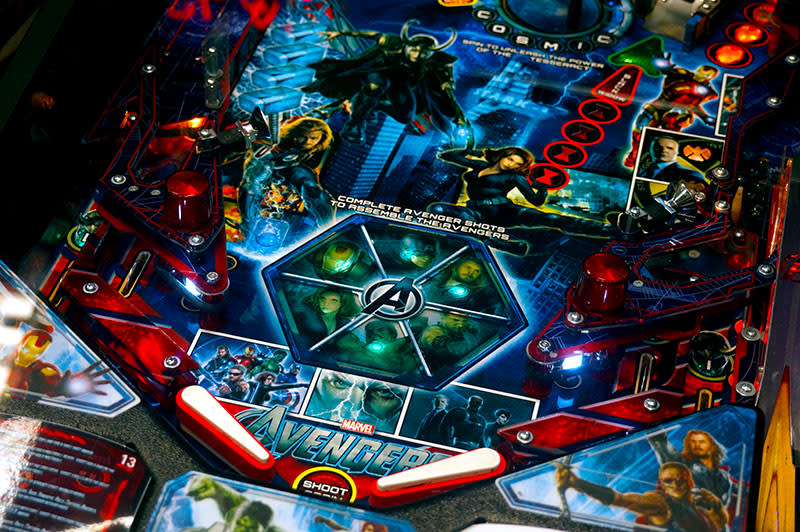 Stern Avengers Pro Measurements:
| | |
| --- | --- |
| Dimensions | |
| Height: | 75 1/2″ |
| Width: | 27″ |
| Length: | 55″ |
| Weight: | 250lbs |
Please ensure you fully check that a pinball of this size will fit into your intended location.
Warranty:
Home Use:
This pinball machine comes with a 1 year parts warranty. All parts that are faulty will be replaced. Often we can solve any problems over the phone and supply any necessary components for the customer to fit. If necessary our specialist repairer can visit your home to inspect and repair your machine on-site, but this would be chargeable. Please call us for a call-out quotation. If parts are required which are not carried at the time these will need to be ordered for you, and will sometimes need to be imported from the States – therefore, there can be a wait for the part to arrive.
After our 1 year warranty has expired we will continue to offer you complete support for any problems you have, either over the phone or by email, and can provide a chargeable engineer call out should it be required. Whatever happens, we will be able to look after you and your pinball machine. ZumanGames