Sale!
Theatre of Magic Pinball Machine
Save: 11.9%
Condition:
This pinball machine is in a perfect playing condition. No reconditioning was deemed necessary, although it has been serviced to ensure it plays with no errors. The playfield is in superb condition, super clean body without scratches, having had new ramps and a new trap door cover fitted to the game.
Important: Please check the measurements for the pinball machine above and ensure it will fit through your doorways.
Description
Theatre of Magic Pinball Machine comes with Delivery and Installation, it is in stunning condition, it has been serviced by our engineer and is in fully working  condition. Theatre of Magic Pinball MachineThe Theatre of Magic Pinball Machine is manufactured by Midway, makers of some of the greatest pinball machines in history.
Rated continually as one of the best pinball machines of all time, this fantastic machine will make a great addition to any pinball arcade or private collection. Designed by John Papadiuk in 1995, before he went on to design other pinballs such as Tales of the Arabian Nights and the incredibly popular Cirqus Voltaire,
Theatre of Magic is designed around a magic show and performing death defying illusions and magic. The player's task is to get to the Grand Finale by completing four goals of varying difficulty.
Theatre of Magic has a host of innovative features and illusions in store, including a magic trunk on the playfield that can cause balls to levitate right off the playfield (using a magnet). The right ramp also holds the 'Spirit Ring', a round magnet which grabs the ball from the ramp and releases it to the ramp below.
Upper rollover lanes are hidden from the player's view by the ramps, but can be seen with a mirror on the back panel. There are even special automatic magnets that can save your balls from draining down either outlane.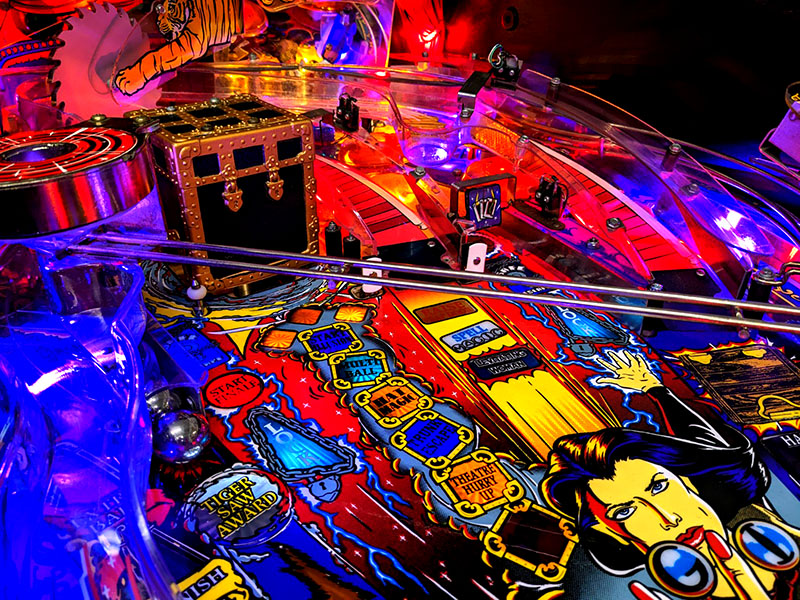 Game Features: Theatre of Magic Pinball Machine
8 Illusions to Master: Conquer eight different feats of magic on your road to become a master magician, and take part in the spectacular Grand Finale.

Magic Trunk: This Magical Trunk is the centre of many game modes, and can even levitate your ball right off the playfield! The Trunk has even been covered in decorative chains to further add to the magical theme.

Magic Ring: Launch your ball up the right staircase ramp repeatedly to see the ball get plucked right from the ramp surface!

Haunted Basement: Shoot into this hidden trapdoor on the playfield to access a multitude of awards, including the innovative 'Virtual Pinball' video mode.
Pinball Machine Measurements:
Please ensure you fully check that a pinball of this size will fit into your intended location.
| | |
| --- | --- |
| Dimensions | |
| Height: | 76″ |
| Width: | 27″ |
| Depth: | 31″ |
| Weight: | 118kg |
Pinball Warranty:
Home Use:

This pinball machine comes with a 1 year parts warranty. All parts that are faulty will be replaced. Often we can solve any problems over the phone and supply any necessary components for the customer to fit. If necessary our specialist repairer can visit your home to inspect and repair your machine on-site, but this would be chargeable.
Please call us for a call-out quotation. If parts are required which are not carried at the time these will need to be ordered for you, and will sometimes need to be imported from the States – therefore, there can be a wait for the part to arrive.
After our 1 year warranty has expired we will continue to offer you complete support for any problems you have, either over the phone or by email, and can provide a chargeable engineer call out should it be required. Whatever happens, we will be able to look after you and your pinball machine.